Cross-Genre Creative Nonfiction
As a genre, creative nonfiction often relies not only on interdisciplinary research, but cross-genre formal techniques. In this workshop, students will work on essays and memoirs that use formal techniques found in fiction, poetry, other forms of nonfiction writing (such as cultural studies, science writing, or philosophy), and even photography. In what ways do these different literary and nonfiction genres help create new meanings and readerly possibilities for creative nonfiction?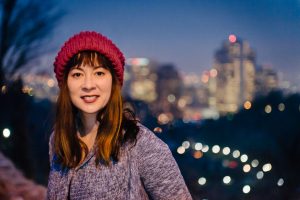 Paisley Rekdal is the author of a book of essays, The Night My Mother Met Bruce Lee,  the hybrid-genre photo-text memoir Intimate, and four books of poetry: A Crash of Rhinos, Six Girls Without Pants, The Invention of the Kaleidoscope and Animal Eye, which was a finalist for the 2013 Kingsley Tufts Prize and winner of the UNT Rilke Prize. Her newest book of poems is Imaginary Vessels, and her most recent work of nonfiction is a book-length essay, The Broken Country: On Trauma, a Crime, and the Continuing Legacy of Vietnam. Her work has received a Guggenheim Fellowship, the Amy Lowell Poetry Traveling Fellowship, a Civitella Ranieri Residency, an NEA Fellowship, Pushcart Prizes, the 2016 AWP Nonfiction Prize, and various state arts council awards. Her poems and essays have appeared in The New York Times Magazine, American Poetry Review, The Kenyon Review, Poetry, The New Republic, Tin House, the Best American Poetry series (2012, 2013, and 2017), and on National Public Radio among others.  She teaches at the University of Utah, where she is also the creator and editor of the community web project Mapping Salt Lake City. In May 2017, she was named Utah's Poet Laureate.