Cutting the River: Intention as Problem, as River
This workshop will invite participants to generate drafts through close observation/recollection and will ask poets to begin to engage the imagination as they work to distance themselves from the originating impulse of their poems. Poets at all levels are welcome, but this is not the workshop for people who like to say what they mean, mean what they feel, feel what they mean, and then write a poem about it. Instead, it will create space to move in and out of the lyric mode. Participants will generate drafts, revise new work, and investigate form (prosody, lyric subgenres, speech acts).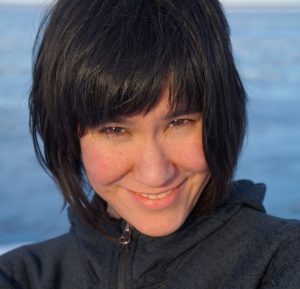 Joan Naviyuk Kane is the author of Milk Black Carbon, The Straits, The Cormorant Hunter's Wife and Hyperboreal. She has received a Whiting Writer's Award, the Donald Hall Prize in Poetry, the USA Projects Creative Vision Award, an American Book Award, the Alaska Literary Award, and fellowships from the Rasmuson Foundation, Alaska State Council on the Arts, Alaska Arts and Cultures Foundation, the Native Arts and Cultures Foundationand the School for Advanced Research.
Kane graduated from Harvard College, where she was a Harvard National Scholar, and Columbia University's School of the Arts, where she was the recipient of a graduate Writing Fellowship. Inupiaq with family from King Island and Mary's Igloo, she raises her children in Anchorage, Alaska, and is a faculty mentor with the low-residency MFA program at the Institute of American Indian Arts in Santa Fe, New Mexico.
UPDATE – February 3, 2018 – Joan Kane's poetry workshop is filled and we accepting applicants to the waiting list.