VIRTUAL 2021 MNWC June 21 – 26
"Fantastic – one of the best conferences in the country!"

–Aimee Nezhukumatathil
COVID-19 RESPONSE
We've decided, after much deliberation, that due to continued COVID-19 concerns and the pandemic's impact on funding sources this coming conference will be online—June 21 – 26, 2021. Our last conference was entirely online, and it worked well! Even with recent announcements of the development of effective vaccines, online is still the best way for us to safely offer a space for folks to come together as a community engaged in the craft of creative writing. We're planning on refining this year's schedule. In the meantime, please refer to this past June's schedule for a sense of the schedule this coming June. Again, the conference will be synchronous/live Workshops, Craft Conversations, Readings, and Yoga for Writers, and more.
MNWC 2021 Overview
This year's workshop faculty members are Jennifer Elise Foerster (Poetry), John Murillo (Poetry), Faith Adiele (Creative Nonfiction), J. Drew Lanham (Creative Nonfiction), and Danielle Evans (Fiction). And the acclaimed National Book Award-winning poet Nikky Finney will be our Distinguished Visiting Writer. Workshop and Auditor options are offered, and scholarship opportunities are available.
MNWC 2021 Scholarship Award Recipients
Alex Juffer receives the Minnesota Scholarship.
Melisa Casumbal-Salazar is awarded our Poetry Scholarship.
Katie Miller is our Creative Nonfiction Scholarship recipient.
Clancy McGilligan receives the Fiction Scholarship.
L. Renée receives the Charles W. Scrutchin Emerging Writer Award.
Shauna Osborn and Gretchen Potter were each awarded a New Poets of Native Nations Women's Scholarship.
We also want to acknowledge honorable mentions—Kate Finegan, Sydney Goggins, Tashia Hart, Phylise Smith—and we await confirmations from others.
Scholarships help to support emerging writers, important voices, and community leaders. Scholarships enliven our writing community and contribute to the quality of our workshops. We thank our donors and partners for their support. Miigwech to Graywolf Press and Heid E. Erdrich and the contributors to the New Poets of Native Nations anthology for supporting Native women writers. Thanks to MNWC past participants, to the Minnesota State Arts Board and Region 2 Arts Council, and thanks to our friends at Bemidji State University.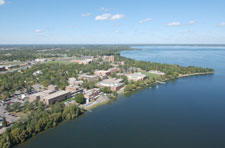 Since 2003, writers from all over the United States have gathered in an intimate lakeside setting with award-winning authors and teachers to practice the arts of poetry, fiction, and creative nonfiction.
The Minnesota Northwoods Writers Conference has given hundreds of participants from across the United States the opportunity to work closely with award-winning faculty. Past faculty include Steve Almond, Judy Blunt, Elizabeth Bradfield, Geoffrey Brock, Jericho Brown, Rebecca Brown, Derick Burleson, Ron Carlson, Judith Ortiz Cofer, Matt de la Peña, Alison Hawthorne Deming, Natalie Diaz, Mark Doty, Rikki Ducornet, Camille Dungy, Danielle Evans, David Gessner, Joy Harjo, Janice N. Harrington, Terrance Hayes, Robin Hemley, Edward Hirsch, Ravi Howard, LeAnne Howe, David Jauss, Mat Johnson, Wayne Johnson, Sheri Joseph, Joan Naviyuk Kane, Judith Kitchen, Ada Limón, Lorraine Lopez, Bret Lott, Donna Masini, Wayne Miller, Judson Mitcham, Ander Monson, Aimee Nezhukumatathil, Dan O'Brien, Sharon Olds, Peter Orner, Jay Parini, Tina Parke-Sutherland, Dustin Parsons, Paisley Rekdal, Scott Russell Sanders, Tim Seibles, Brenda Shaughnessy, Sue Silverman, Tracy K. Smith, Meera Subramanian, Joni Tevis, Natasha Trethewey, Rich Wallace, Nancy Willard, and Kevin Young.