MNWC 2023 ~ June 20–25
We offer six intensive four-day writing classes beside the lake at Bemidji State, and several affordable auditor tracks, including Virtual Options. Our 2023 teaching writers are Ross Gay (Poetry), Keetje Kuipers (Poetry), Aimee Nezhukumatathil (Hybrid Poetry & Prose), Lia Purpura (Creative Nonfiction), Will Weaver (Fiction) and Diane Wilson (Memoir to Fiction). We're thrilled to have Heid E. Erdrich and Sun Yung Shin join us as visiting writers.
Since 2003, writers from all over the United States have gathered in our intimate lakeside setting with award-winning authors and teachers to practice the arts of poetry, fiction, and creative nonfiction. The Minnesota Northwoods Writers Conference has given hundreds of participants from Minnesota and across the United States the opportunity to work closely our faculty. We offer a range of scholarships to support emerging writers, important voices, and community leaders.
Conference Features
Intimate Workshops with Exceptional Faculty
Auditor Tracks with Virtual Options
Daily Craft Talks
Publishing with Guest Editor
Evening Reading Series
Publishing Panel with Teaching Staff
Affordable Housing in a Lakeside Setting
The Minnesota Northwoods Writers Conference is pleased to announce our 2023 Scholarship Awards! The scholarship deadline was March 15, 2023. The awards included several $400 Genre Scholarships, a Minnesota Scholarship, a Bemidji Area Scholarship, and FULL SCHOLARSHIPS for Native Women Writers and Emerging Writers of Color. Scholarships and partnerships enliven our writing community and contribute to the quality of our workshops.
We are able to attract some of the finest teaching writers to Bemidji and keep our conference affordable in part due to the generous support of our donors and partners. Thanks to MNWC past participants and area writers for your contributions. Thanks to the Minnesota State Arts Board and Region 2 Arts Council for your steady support. Miigwech to Graywolf Press and Heid E. Erdrich and the contributors to the New Poets of Native Nations anthology for supporting Native women writers. And thanks to the American Indian Resource Center and all of our partners at Bemidji State University.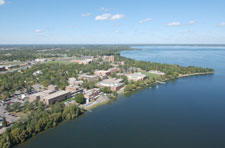 Past faculty include Faith Adiele, Steve Almond, Kimberly Blaeser, Elizabeth Bradfield, Jericho Brown, Rebecca Brown, Derick Burleson, Judith Ortiz Cofer, Alison Hawthorne Deming, Natalie Diaz, Mark Doty, Camille Dungy, Danielle Evans, Nikky Finney, Jennifer Foerster, David Gessner, Joy Harjo, Terrance Hayes, Robin Hemley, Edward Hirsch, LeAnne Howe, David Jauss, Mat Johnson, J. Drew Lanham, Joan Naviyuk Kane, Douglas Kearney, Judith Kitchen, Ada Limón, Lorraine Lopez, Bret Lott, Donna Masini, Wayne Miller, Judson Mitcham, Ander Monson, John Murillo, Aimee Nezhukumatathil, Sharon Olds, Peter Orner, Jay Parini, Dustin Parsons, Benjamin Percy, Claudia Rankine, Paisley Rekdal, Scott Russell Sanders, Tim Seibles, Brenda Shaughnessy, Sue Silverman, Tracy K. Smith, Meera Subramanian, Joni Tevis, Natasha Trethewey, David Treuer, and Kevin Young. See a complete list of faculty here.