Minnesota Northwoods Writers Conference 2019 – June 17 through 23
"… you are likely to be awakened by the haunting call of the loon or inspired by the grace of the bald eagle."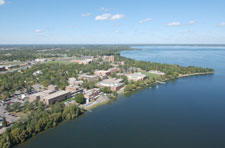 Since 2003, writers from all over the United States have gathered in an intimate lakeside setting with award-winning authors and teachers to practice the arts of poetry, fiction, and creative nonfiction.
Please join us in 2019 from Monday, June 17 through Sunday, June 23 for an exciting opportunity to create, collaborate, and commune in the great northwoods. All of our workshops and auditor spots are filled.
This year's workshop faculty members are Peter Orner (Fiction), Camille Dungy (Poetry), Ada Limón (Poetry), Aimee Nezhukumatathil (Poetry & Creative Nonfiction Hybrid), and Dustin Parsons (Creative Nonfiction). And the award-winning and acclaimed poet Terrance Hayes will be our Distinguished Visiting Writer. 
Join us for our Evening Reading Series, free and open to the public – June 17 to 22 at the American Indian Resource Center, Bemidji State University. Faculty readings begin at 7:30 PM each evening, featuring Terrance Hayes on June 19. A book signing will follow each reading.
https://www.northwoodswriters.org/reading-series/
Congratulations to our 2019 scholarship recipients! Julian Randall is our poetry scholarship recipient. Andrew Beckner is our fiction scholarship recipient. Elizabeth Hopta is our creative nonfiction scholarship recipient. And Jasmin Ziegler is our Minnesota scholarship recipient. Congratulations also to Ruby Hansen Murray, the recipient of a new scholarship opportunity to attend a workshop at the Minnesota Northwoods Writers Conference. This scholarship is funded through a generous donation of royalties from sales of the anthology New Poets of Native Nations edited by Heid E. Erdrich and published by Graywolf Press.
The Minnesota Northwoods Writers Conference has given hundreds of participants from across the United States the opportunity to work closely with award-winning faculty. Past faculty include Steve Almond, Judy Blunt, Elizabeth Bradfield, Geoffrey Brock, Jericho Brown, Rebecca Brown, Derick Burleson, Ron Carlson, Judith Ortiz Cofer, Matt de la Peña, Alison Hawthorne Deming, Natalie Diaz, Mark Doty, Rikki Ducornet, Camille Dungy, Danielle Evans, David Gessner, Joy Harjo, Janice N. Harrington, Terrance Hayes, Robin Hemley, Edward Hirsch, Ravi Howard, LeAnne Howe, David Jauss, Mat Johnson, Wayne Johnson, Sheri Joseph, Joan Naviyuk Kane, Judith Kitchen, Lorraine Lopez, Bret Lott, Donna Masini, Wayne Miller, Judson Mitcham, Ander Monson, Aimee Nezhukumatathil, Dan O'Brien, Sharon Olds, Jay Parini, Tina Parke-Sutherland, Paisley Rekdal, Tim Seibles, Sue Silverman, Tracy K. Smith, Joni Tevis, Natasha Trethewey, Rich Wallace, Nancy Willard, and Kevin Young.