Virtual MNWC 2020
"Fantastic – one of the best conferences in the country!"

–Aimee Nezhukumatathil
Due to the COVID-19 Pandemic, we decided to move our conference from Minnesota's Northwoods to an online format, so MNWC has gone virtual. We felt this move was the best decision for continuing to offer a space for folks to come together as a community engaged in the craft of creative writing. The conference will be synchronous/live Workshops, Craft Talks, and Readings, and more.
Please join us for the MNWC Evening Reading Series, which is free and open to the public. These readings by the Minnesota Northwoods Writers Conference faculty a will take place over Zoom this year. They will begin at 6:30 PM Central Time each evening from Monday, June 22 through Saturday, June 27. Please register for the readings on our Evening Reading Series page or visit our EVENING READING SERIES site to register and access our Bookshop page to purchase the readers' books. We look forward to you joining us for this exciting series of readings. So we can start on time, please join a few minutes early. You will be admitted from the virtual waiting room just before the reading starts at 6:30 PM Central Time.
This year's workshop faculty members are Elizabeth Bradfield (Poetry), Brenda Shaughnessy (Poetry), Alison Hawthorne Deming (Creative Nonfiction), Meera Subramanian (Creative Nonfiction), and Scott Russell Sanders (Fiction). And the award-winning and acclaimed author Robin Wall Kimmerer will be our Distinguished Visiting Writer.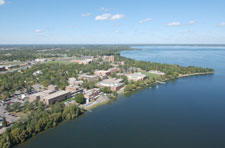 Since 2003, writers from all over the United States have gathered in an intimate lakeside setting with award-winning authors and teachers to practice the arts of poetry, fiction, and creative nonfiction.
The Minnesota Northwoods Writers Conference has given hundreds of participants from across the United States the opportunity to work closely with award-winning faculty. Past faculty include Steve Almond, Judy Blunt, Elizabeth Bradfield, Geoffrey Brock, Jericho Brown, Rebecca Brown, Derick Burleson, Ron Carlson, Judith Ortiz Cofer, Matt de la Peña, Alison Hawthorne Deming, Natalie Diaz, Mark Doty, Rikki Ducornet, Camille Dungy, Danielle Evans, David Gessner, Joy Harjo, Janice N. Harrington, Terrance Hayes, Robin Hemley, Edward Hirsch, Ravi Howard, LeAnne Howe, David Jauss, Mat Johnson, Wayne Johnson, Sheri Joseph, Joan Naviyuk Kane, Judith Kitchen, Ada Limón, Lorraine Lopez, Bret Lott, Donna Masini, Wayne Miller, Judson Mitcham, Ander Monson, Aimee Nezhukumatathil, Dan O'Brien, Sharon Olds, Peter Orner, Jay Parini, Tina Parke-Sutherland, Dustin Parsons, Paisley Rekdal, Tim Seibles, Sue Silverman, Tracy K. Smith, Joni Tevis, Natasha Trethewey, Rich Wallace, Nancy Willard, and Kevin Young.