Linden Suites
Stay in comfort, close to Lake Bemidji and Diamond Point Park, and an easy walking distance from all Northwoods Writers Conference workshops and activities. Only $300/week per person.
Linden has two-bedroom and three-bedroom suites with private entrances adjoined by a shared bathroom. The suites are air-conditioned, and WiFi and high speed Internet are standard. Our 70+ participants will be on three floors. Each floor has a small kitchen area with a refrigerator. There are comfortable lounges for writing or gathering. Dedicated printers are available to all MNWC participants in Linden Hall. (Computers and printing will also be available at our headquarters in the American Indian Resource Center.) Participants may extend their stay in the residence halls a day before and/or after the conference dates for the same conference rate. We do this to accommodate flight arrival and departure schedules into and out of Bemidji. We do not offer daily rates, and we expect all participants to come for the full six days of the conference.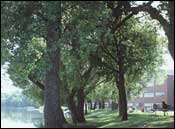 Smoking is not permitted in residence hall and campus buildings. Alcohol is not allowed. This includes all residence hall rooms and public areas.
Off-Campus
Bemidji Offers excellent and varied accommodations at its many hotels, motels and resorts. Information is available from the Bemidji Chamber of Commerce (800-458-2223).
---
Dining
Three meals are covered by the conference fee including the opening dinner, an evening lakeside picnic, and a closing dinner. Workshop participants will be provided a box lunch during their 10:30 AM to 1:30 PM workshops. Menus will be provided ahead of time to accommodate dietary needs.
Bemidji State University Dining Services also offers affordable and convenient American cuisine and ethnic dishes at Walnut Hall on campus and near housing. Meal rates will be posted as soon as available and a meal plan for the week – breakfast, lunch, dinner – will be offered as well. A schedule of operating hours will be posted closer to the conference.
Off-Campus Dining
Dining options in Bemidji include many excellent locally owned cafes and restaurants, and franchised restaurants, many within walking distance from the conference. Numerous delivery options are available. Information is available from the Bemidji Chamber of Commerce (800-458-2223).
---
Recreation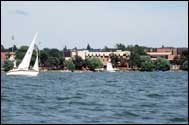 BSU's Outdoor Program Center is open to the public and located in beautiful Diamond Point Park adjacent to the Writers Conference headquarters. OPC offers pontoon cruises, sailing, canoeing, kayaking, water skiing, clinics and safety courses. Bicycles are available for reasonable rates. The OPC is fully staffed and open daily.
Hiking and biking trails along Lake Bemidji are conveniently accessible to Writers Conference participants. A stroll to the shops and cafes of downtown Bemidji and the statues of Paul and Babe takes about fifteen minutes.
For a small fee, campus recreation also offers:
200 Meter Indoor Track
5 Racquetball/Handball Courts
Weight and Workout Equipment
Dance Studio
Tennis, Basketball and Volleyball Courts
6 lane, 25 Yard Swimming Pool