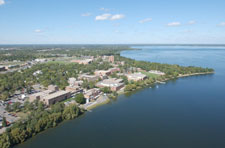 Bemidji State University is located on Lake Bemidji, 220 miles north of Minneapolis in lakes country.
The Bemidji Airport (BJI) offers two flights each day to and from Minneapolis (MSP) on Delta.  Bus service is available through Jefferson Lines.
The city of Bemidji is a regional center for northern Minnesota with excellent recreation and shopping opportunities, and complete medical facilities.  It is a community of 14,000 with a welcoming "up north" feel and a thriving arts scene.  The streets are lined with small shops, restaurants and a sculpture walk.  The waterfront park boasts the iconic statues of Paul Bunyan and Babe, his blue ox–a tourist tradition for decades.
Temperatures in June average around 80 degrees in the day with cooler nights, or what locals call good sleeping weather.
Bemidji is also known as the first city on the Mississippi River.  The Ojibwe named the lake Bemijigamaag (a lake with crossing waters), since the Mississippi River enters on the lake's south shore and exits on its eastern shore.  Bemidji is a center for Ojibwe culture and is situated between the Leech Lake, Red Lake, and White Earth Reservations.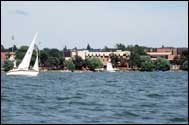 Lake Bemidji is a popular recreational and resort destination.  In summer, the eleven square mile lake provides opportunities for boating, sailing, swimming and fishing.  The newly updated Diamond Point Park, across from the residence halls at Bemidji State University, offers sandy swimming beaches, picnic areas and shelters, shaded walkways, bike paths, and scenic views.  The Outdoor Program Center rents canoes, kayaks, bicycles, sailboats and more.
Lake Bemidji State Park is on the north end of the lake with its unforgettable trails that meander among conifers, ferns, and orchids.  Popular day trips from Bemidji include Itasca State Park and the headwaters of the Mississippi.  Step across the Mississippi on a stone path as its starts its winding journey 2,552 miles to New Orleans and the Gulf of Mexico.  Visit towering pines in Minnesota's oldest state park, established in 1891, and drive or hike through a 2000-acre wilderness sanctuary, a National Natural Landmark.  Red and white pine approaching 400 years old and four feet in diameter can also be found in The Lost Forty, a 144 acre park spared the lumberjack's axe by a mapping error.