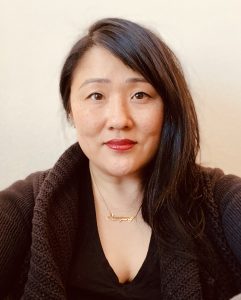 Sun Yung Shin was born in Seoul, Korea and was raised in the Chicago area. She is a poet, writer, and cultural worker. Shin is the author of the poetry collections The Wet Hex (Coffee House Press, 2022); Unbearable Splendor (Coffee House Press, 2016), winner of the 2016 Minnesota Book Award for poetry and finalist for the 2017 PEN USA Literary Award for Poetry; Rough, and Savage (Coffee House Press, 2012); and Skirt Full of Black (Coffee House Press, 2007), winner of the 2007 Asian American Literary Award for poetry. The Wet Hex and her new picture book, Where We Come From, co-written with Diane Wilson, John Coy, and Shannon Gibney, are finalists for Minnesota Book Awards.
"Being an Asian American, or any person of color in the U.S., generally means being invisible and hypervisible. Those that are invisible are more easily shifted into the category of disposable. Those that are hypervisible are more easily shifted or are already in the category of Other, outlaw, criminal, invader, parasite, etc. Anything poets and artists can do to make the status quo strange–in this case to attempt to expose human cultures of structural dominance–as constructed may help reveal how violence is often born and propagated on the seemingly 'neutral' or 'disembodied' premises of language," says Shin.
Personal and environmental violations form the backdrop against which Shin examines questions of grievability, violence, and responsibility in her most recent collection of poems, The Wet Hex. Smashing the hierarchies of god and humanity, heaven and hell, in favor of indigenous Korean shamanism and animism, Shin layers an apocalyptic revision of nineteenth-century imagery of the sublime over the present, conjuring a reality at once beautiful and terrible. Of the collection, Michael Kleber-Diggs said, "The Wet Hex is a worthy monument to this Holocene Epoch. Using images, allusions, and truths that are mystical, metaphorical, empirical, and personal, Sun Yung Shin prevails here as a daughter, and as a mother; these poems transcend our earthly realm like shadow children. Shin is a writer of profound skill and authentic presence. The Wet Hex is canorous, masterful, and utterly unique. It builds on her stellar body of work to advance what's possible in poetry and art."
Shin is the editor of What We Hunger For: Refugee and Immigrant Stories on Food and Family (2021) and of A Good Time for the Truth: Race in Minnesota and co-editor of Outsiders Within: Writing on Transracial Adoption. She is also the author of bilingual illustrated book for children Cooper's Lesson.
She lives in Minneapolis where she co-directs the community organization Poetry Asylum with poet Su Hwang.