The Art of Covers: An Interdisciplinary Ekphrastic Poetry Workshop
Conventionally, a "cover" is when a musician performs a song recorded by another musician. They may change the style of music, the mood, or instrumentation, but generally, the lyrics and melody remain in place. Yet, how might a poet cover a poem? Or for that matter, a song or film?
In this generative workshop, we're going to be thinking about covers thematically. We'll begin with the idea[1] and[2] practice[3] of covering a song[4] to adapt methodologies available to us as writers. After working on these  investigative mutations of ekphrasis, we'll develop writing and performances that literally "cover" music and video (critical karaoke and live film narration). Participants should leave the workshop with new, interdisciplinary work and new ways of thinking about ekphrasis.
[1] Robert Glasper Experiment – Smells Like Teen Spirit
[2] Paul Anka – Smells Like Teen Spirit
[3] Patti Smith – Smells Like Teen Spirit
[4] Nirvana – Smells Like Teen Spirit (Official Music Video)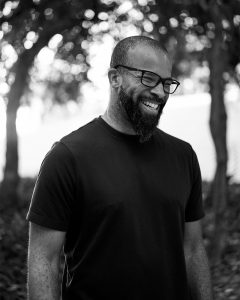 Douglas Kearney has published seven collections, including the National Book Award-longlisted Sho (Wave Books, 2021), Buck Studies (Fence Books, 2016), winner of the Theodore Roethke Memorial Poetry Award, the CLMP Firecracker Award for Poetry, and California Book Award silver medalist (Poetry). M. NourbeSe Philip calls Kearney's collection of libretti, Someone Took They Tongues (Subito, 2016), "a seismic, polyphonic mash-up." Kearney's Mess and Mess and (Noemi Press, 2015), was a Small Press Distribution Handpicked Selection that Publisher's Weekly called "an extraordinary book." WIRE magazine calls Fodder (Fonograf Editions, 2021), a live album featuring Kearney and frequent collaborator, Val-Inc., "Brilliant." Kearney is the 2021 recipient of OPERA America's Campbell Opera Librettist Prize, created and generously funded by librettist/lyricist Mark Campbell. His operas include Sucktion, Mordake, Crescent City, Sweet Land (the Music Critics of North America's Best Opera of 2021), and Comet / Poppea commissioned by AMOC (American Modern Opera Company). He has received a Whiting Writer's Award, a Foundation for Contemporary Arts Cy Twombly Award for Poetry, residencies/fellowships from Cave Canem, The Rauschenberg Foundation, and others. Born in Brooklyn and raised in Altadena, CA, Kearney teaches Creative Writing at the University of Minnesota–Twin Cities and lives in St. Paul with his family.