Poetical Things: A Course of Practice
For this class we will be reading and looking at and thinking about a handful of poetic or poetical things (broadly defined!), and we will then generate all kinds of exercises by which we generate all kinds of poetical or poetical things (even more broadly defined!). Expect to make poems, drawings, puppets, operas, maps, maybe choreographed stuff and whatever else we come up with that will be fun, surprising, and beautiful and share-y too.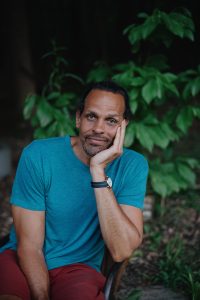 Ross Gay is the author of four books of poetry: Against Which; Bringing the Shovel Down; Be Holding, winner of the PEN American Literary Jean Stein Award; and Catalog of Unabashed Gratitude, winner of the 2015 National Book Critics Circle Award and the 2016 Kingsley Tufts Poetry Award. His first collection of essays, The Book of Delights, was released in 2019 and was a New York Times bestseller. His new collection of essays, Inciting Joy, will be released by Algonquin in October of 2022.