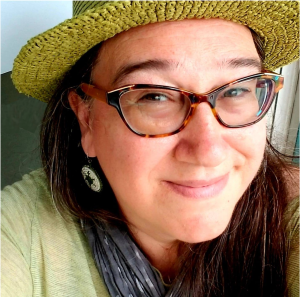 Heid E. Erdrich is a poet, educator, and interdisciplinary artist. She was born in 1963 in Breckenridge, Minnesota, grew up in Wahpeton, North Dakota, and is Ojibwe enrolled at Turtle Mountain. She received a BA from Dartmouth College, two MA degrees from the Johns Hopkins Writing Seminars, and a PhD from the Union Institute.
Erdrich is the author of numerous collections, including Little Big Bully (Penguin, 2020);  Curator of Ephemera at the New Museum for Archaic Media (Michigan State University Press, 2017) and four other collections. She is also the regional editor for When the Light of the World was New, Our Songs Came Through (Norton, 2021), a Norton anthology of Native American poetry edited by Joy Harjo, the editor of New Poets of Native Nations (Graywolf Press, 2018), and co-editor of Sister Nations: Native American Women Writers on Community (Minnesota Historical Society Press, 2002).
Erdrich has received two Minnesota Book Awards, as well as fellowships and awards from the National Poetry Series, Native Arts and Cultures Foundation, McKnight Foundation, Minnesota State Arts Board, Bush Foundation, Loft Literary Center, First People's Fund, and others. Her most recent book won the Balcones Prize.
Heid has taught undergraduate and graduate students for decades, receiving tenure at University of St. Thomas. Most recently, she served as a mentor to Augsburg University's MFA in Creative Writing program from 2014 to 2022. She has visited dozens of colleges and universities, libraries, and tribal and cultural institutions as a guest speaker and teacher. She regularly gives writing workshops on her home reservation and in other Native communities.
Heid served as the 2019 Distinguished Visiting Professor in Liberal Arts at University of Minnesota Morris, the 2021 Glasgow Writer-in-Residence at  Washington and Lee, the 2022 Elliston Writer-in-Residence for University of Cincinnati, and she recently taught a term in Native American and Indigenous Studies at Dartmouth College.
An independent scholar and collaborative artist, in 2007 Heid left her tenured position to work as an arts advocate, collaborator, and curator in the urban Native community in the Twin Cities. She produced short films and installations, curated dozens of exhibitions of Native American art, and served as literary curator to the Hearts of Our People exhibit of Native American women's art. Heid is currently a guest curator for Amherst College's Mead Museum working on an exhibit for 2023.