MNWC Alumni Spotlight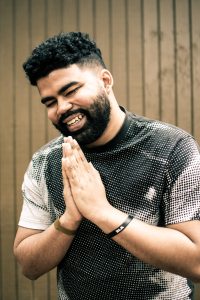 Julian Randall is a Living Queer Black poet from Chicago. He has received fellowships from Cave Canem, CantoMundo, Callaloo, BOAAT and the Watering Hole. Julian is the recipient of a Pushcart Prize. Julian is the winner of the 2019 Betty Berzon Emerging Writer Award from the Publishing Triangle.
His writing has been published in New York Times Magazine, Ploughshares, and POETRY, and anthologized in Black Boy Joy (which debuted at #1 on the NYT Best Seller list), Wild Tongues Can't Be Tamed and Furious Flower. He has essays in The Atlantic, Vibe Magazine, Los Angeles Review of Books, and other venues. He holds an MFA in Poetry from Ole Miss.
He is the author of Refuse (Pitt, 2018), winner of the 2017 Cave Canem Poetry Prize and a finalist for a 2019 NAACP Image Award, as well as the middle grade novel Pilar Ramirez And The Escape from Zafa (Holt, Winter 2022), and The Dead Don't Need Reminding: Essays (Bold Type Books, Spring 2023).  He can be found on Twitter @JulianThePoet. https://juliandavidrandall.com/
Q&A (Note: Edited and condensed for clarity)
What qualities do you look for when applying to writing conferences?
Sustained relationship. I think that one of the things that I really grew up loving was alumni pages. When you look at opportunities to see like, "Oh, my gosh, who has passed through this space before?" There's a way that it can get real name-droppy, but I think that in its best format it  means that the conference has an investment in each of the writers who pass through its gates and they just want to make sure that everybody knows like, "hey this person came through here and we're going to keep lifting them up and supporting their work." Like I love seeing how MNWC just be like, retweeting, and sending along alumni newsletters. It can look a lot of different ways, but realistically it's just about making sure that when people pass through that they feel like they were seen and they continue to be seen even as they fade into the distance. Ya mean?
What was your experience at MNWC? How did attending the conference impact your writing journey?
It was the last writing conference where I got to go to that I could still hug people, so there was definitely that. But I think that it was a wonderful experience in that, insofar as, I think that writing spaces, and especially like writing retreats, often have these generational divides that make  it difficult for folks to talk to each other and that can lead to the sustainability of the space being endangered. And I never felt that while I was in the space [of MNWC].
Kate Kysar, she met me, didn't know me from Adam at that moment in time, but I ended up catching the Milkweed Fellowship and she let me stay at her house for, like, a week while I was getting on my feet and actually allowed to move into my space and all that good stuff. So the first week that I was back in Minnesota, because that's where I graduated high school, that fellowship, that kind of loyalty that runs deep, that all trickles down from the veteran leadership that they got there, but they're always looking to incorporate newer voices. That's how you and I got here, because we were in the same [workshop] group. So, it's been a lot of that. I think that just seeing that generational harmony is some really nice stuff.
Congratulations on your new book publication, Pilar Ramirez and The Escape from Zafa! Could you share the premise of your book, as well as the central questions that you are engaging with in your work overall?
I think the general thesis statement of all of my work in fiction, and to a certain degree some of my more recent work in poetry, but definitely the overarching question fiction-wise has been: What if all of our lost ones aren't actually lost to us?
So from that Pilar is the story of a 12-year-old Dominicana. She is an aspiring documentary filmmaker. She's from the same block of Chicago as me…She's been trying to put together this documentary about her cousin who disappeared 50 years ago during the Trujillato, which dominated the Dominican Republic from 1930 to 1961. She's been trying to interview her Mamí and her Abuela, but hasn't really been making a tremendous amount of progress because it's hard to interview older family members about traumatic periods in their lives.
So she has her mind blown when her sister says, "Yo, there's this professor at the University of Chicago who does this exact same type of work. Do you want to meet him?" She's like, "Hell yeah." Hops on the "L" [train], hops off. Pulls up to dude's office hours. Dude ain't there. All that's there are a bunch of papers and files. One of the files has her cousin's exact name and date of disappearance on it, but when she opens it up, all that's inside is a blank sheet of paper. She touches it, ends up on Zafa, a land of Dominican mythos and magic where stories come to life, which has been dominated for hundreds of years by El Cuco, who was Trujillo's homie. Allies in cahoots I tell you! And El Cuco is the one who has had her cousin the entire time, so she has to find her power, find her history, and find her way back home. And that's the story of Pilar.
Please describe your publishing book experience when it comes to this first work of fiction. What are the biggest lessons you learned about publishing?
This is going to sound facetious, but it's mostly that the more time you spend working closely to publishing timelines, the more you realize that time isn't real. Things are always moving—either devastatingly slow or rapaciously fast—depending on which is most inconvenient to everybody involved. And so I guess like, my publishing journey is kind of really indicative of that. That for a long time, around the time I was entering MNWC as a spot and a space, I had been trying to put together query letters and what could it look like to lead a multi-genre life and whatnot. And it was a long process…
And so I had been prepping to do a lot of querying stuff, and I think it was actually a couple of days after the conference, like not even a week, my number one choice agent—who is still my agent to this day, Patrice Caldwell, amazing, amazing person—reaches out and said that somebody had gifted her a copy of Refuse [Randall's poetry collection] and she liked it and wanted to know if I was working on anything else? And I was like, "Oh, am I?" So we did that. And so we were planning for this like long, lengthy process of pitching around this essay collection that is now coming out February of next year, but it's like not what it was back then…Pilar wasn't necessarily, like, really at the forefront of our thoughts or our minds, and then we got an opportunity that just kind of came out of nowhere, and Pilar strolled into my head and said, "I'll take it from here," and so she has.
A lot of things end up kind of linking up. You can spend—it's like that whole best laid plans situation. Sometimes you just gotta hope that something amazing and wonderful is going to happen around the corner that is better than anything you could have planned. But also it helps to have plans for things, because you know, when you get into them dog days chapters you gotta know how to get yourself back out…It's been just, like, a tremendous blessing to see. You know no book is done alone, so I'm just really grateful to have people who are like as invested in this, and have proven time and time again that they are as invested in this, as I am.
Could you please share some writing advice or inspiration or motivation that has helped you sustain your practice?
The work can look many ways. The work can look many ways. You the only one who gonna know if you came correct on that particular day, in terms of like, did you do something to try and make sure that you got better? Or put yourself in a position to be better tomorrow? But for me, I think about what Daniel José Older said about writing beginning with forgiveness. That's been the process for me over the last couple of months, weeks, years. I've seen a lot plans come to fruition and a lot of plans fall apart. Nobody sees that second part. But as you try to think about that, it can become very easy to think, like, "Oh, well I didn't write 2,000 words today. I didn't write 2,000 words yesterday. I'm failing. I'm falling." Obviously, keep the same energy. Keep the same intensity. But be flexible in what manifestation that is. Not every day is leg day. Otherwise, you just get hurt. You know what I mean? I think the same principle can apply writing-wise.
The kids asked me the other day, how do you figure out the voice of your characters? One of the things I did…I made just, like, a little tiny playlist. Like it's not going to go nowhere. I'm not going to put it out or anything. It's not like the official playlist of Pilar Ramirez. But I was just like, what would be some of her favorite songs? What would be the things that she's pulling from? What would be videos that she was interested in?
She has a director who she really admires in the form of Mira Paredez. That's something. It took me watching a couple of YouTube videos of old director interviews, to think like, "Oh, okay. What if she had this character who this is everything she ever wanted to be?" And that could be a way that we get into—what are the values of this character? Who does she lift up? And it's very important to me that her hero is also an Afro-Latina director. This is the manifestation of [the] representation matters conversation.
Why do you write?
There's the beginning poem of Lighthead [by Terrance Hayes], "Lighthead's Guide to the Galaxy": "Ladies and gentlemen, ghosts and children of the state / I am here because I could never get the hang of Time." I think that it's that. I think that the more genres I expand out into the more I think about writing as in relation to my relationship with time.
Poetry is a means by which to stop a moment in space, and like move through it on some like—and this is a super-dated reference—but on some Clockstoppers shit. Versus you look at fiction. Fiction offers me the opportunity to create an alternate timeline. Like a different time altogether. Whereas moving through nonfiction, much of the time it's me trying to manipulate the flow of time. Because yes, this is ostensibly an essay about Atlanta. But realistically, it's an essay about my relationship with my first memories being in Atlanta and like the Southern black boy that I might have grown up to be had I not, like, banged up this school interview, because they were being dicks, and so I tanked the interview when I was five years old. And as I result of that I get to come back to Chicago…and as a result of that Pilar exists….So, yeah, it's about time.
What's your favorite non-writing activity that enlivens your creativity?
I play a lot of 2K (video games). (Laughs) I play a lot of 2K. It's a true thing. My best friend, Nicholas Nichols, is often on the phone with me while I'm doing that. And he's like, "This is the side of you that don't nobody be hearing about." But Nick was the one who ended up pinging me, like, "Yo, your writing is also a space where you are either navigating a tenderness that has been denied to you or exploring a rage that you never necessarily had space to safely explore or express in any other capacity. So there's a muscularity and an aggression to the work that, generally, if people haven't heard you playing 2K and talking all this shit to all these computer characters, then it's necessarily a different thing. But it kind of like gives you an outlet to clear your mind and like skim the top off of whatever the rage happens to be on this particular day." So, I feel like that one doesn't have necessarily anything to do with my "writing-writing," but it does help me kind of defrag my head.